Here's a brief blog about my process for the gold pattern textures on my Victorian Letter Box.
My reference for the letter box shows it was made of oak wood (below). I only had this one shot to work with, but from this view we can see that there are two slots on the top with trefoil ends. There are circular panels on the front side with pierced designs and, based on the description of the box, the back is the same.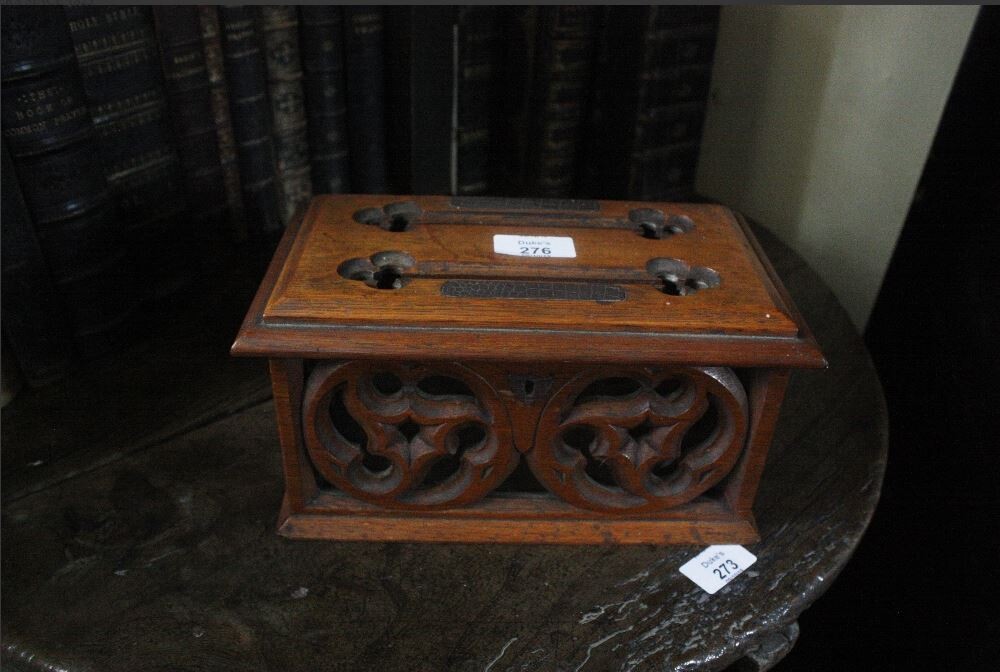 I do appreciate its elegance in its simplicity. The craftsmanship on it is incredible, and I suppose I could've done a lot texturing-wise with just showing the wear on this antique piece.
However, given my plan for the small scene comprising of a wooden side table and a wooden lamp next to a wooden bed in front of wood-paneled walls, I wanted to have a little bit of fun with the box and have it stand out a bit more. What I wanted in the scene was more metallic accents, and so I've decided to do gold foil all over the box. I wanted the pattern to be as elaborate as possible, so I also looked up antique books on Pinterest.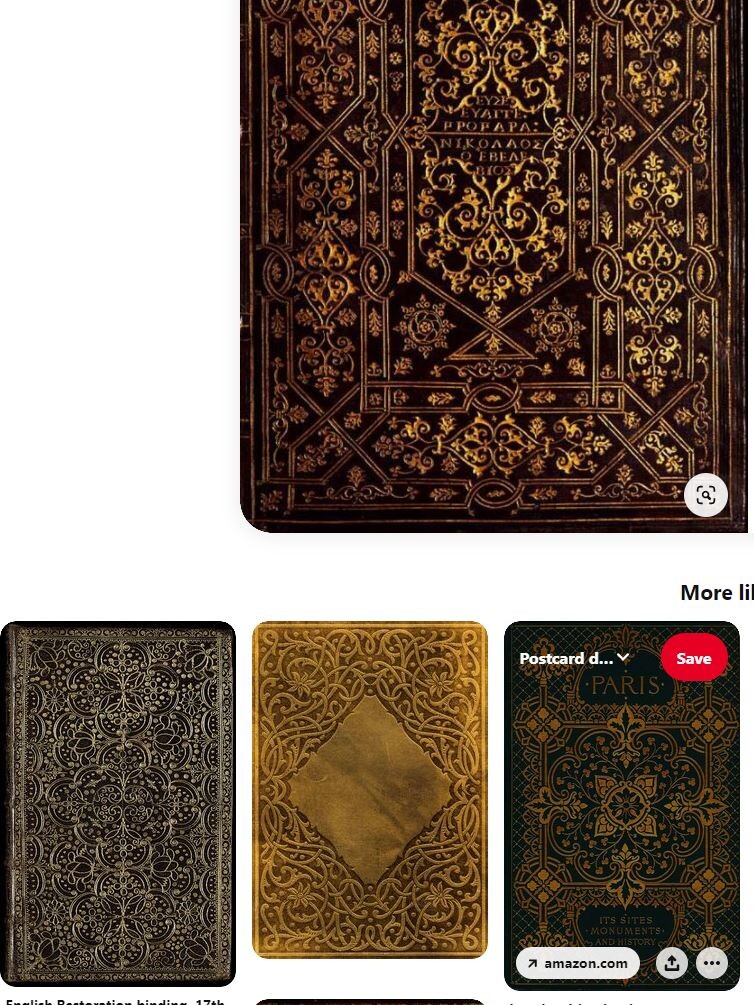 My favourite areas in art museums are the decorative arts galleries. I'm drawn to how pattern and decoration is applied to even the smallest of objects. I searched up "box" at The Met, and it turned up over 10,000 results. There were boxes from many cultures constructed and decorated in unique and exquisite ways. Truly inspiring!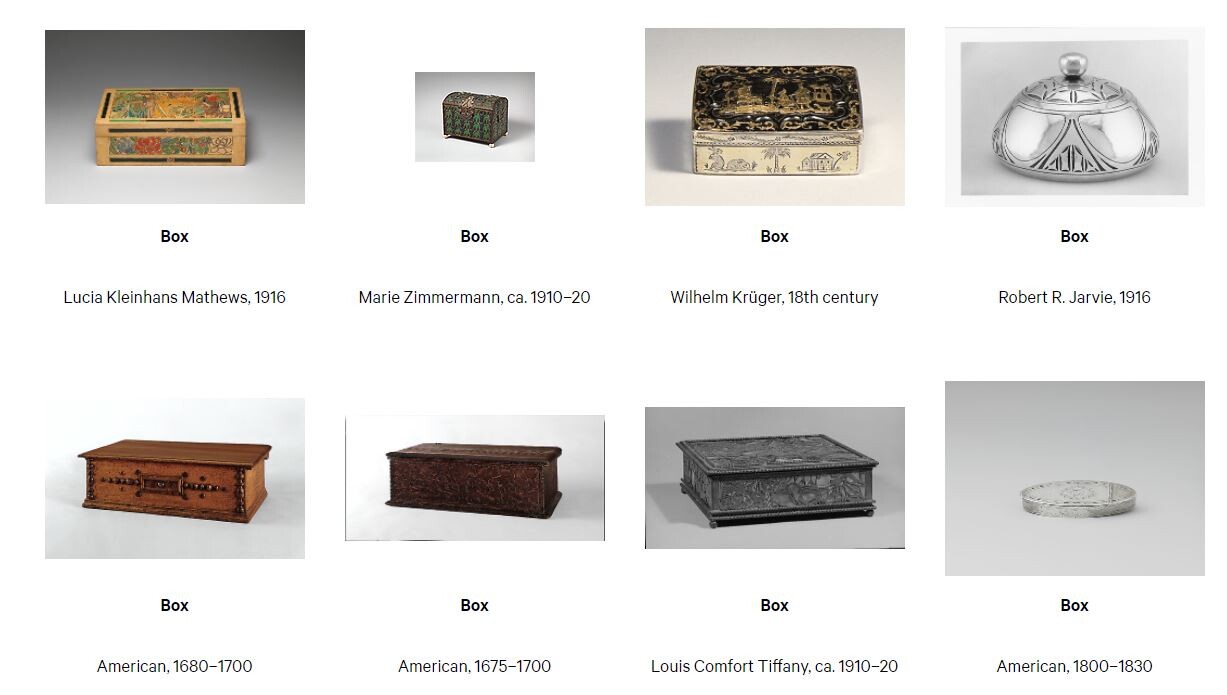 I am aware that I could've just lifted a copyright-free pattern over the internet or made some alpha motifs and stamped them all over. For this particular project, though, I decided to just a design the pattern because I believed that doing so would make the pattern more cohesive and would match the shapes of the box better. It would've been such a shame to work so hard on making the different cut-outs on the wood only to have patterns that fail to enhance or emphasize them. I think I just wanted a custom pattern that would actually serve to improve the piece rather than just a random extra thing to tack on that may potentially make the box look worse. As an added bonus, I thought that the decoration would enable me to further the storytelling elements of the box through design.
I love looking at patterns, but I must admit that designing one has always been daunting to me. There are too many possibilities. Thankfully, the letterbox is decidedly Gothic in design. I started with sketching over the UV on the top part of the box. I personally found that in designing patterns, it helps to have a few motifs that you can connect, repeat, and adapt into other recognizable forms. This isn't a rule in patternmaking or anything. It was just something I learned that will probably help me speed up the creation of future patterns as the need arises.
My main motifs were:
Leaf shapes
Diamonds
Clubs
Border lines with small dots
Border lines with dashed vertical lines
Double-stroked and single-stroked lines
Latin text (all verses are about love)
The main structure of the design is a cross (because Gothic) that runs through the center. I've made the corners into rounded shapes pointing inwards because I saw this box and I thought the concept of the bracing was really unique.
The designs were finalized in vector using Adobe Illustrator, exported as PNG's, and used as texture masks in Substance Painter. Because I was using the UV to layout my designs, they were applied properly. Below are some progress shots.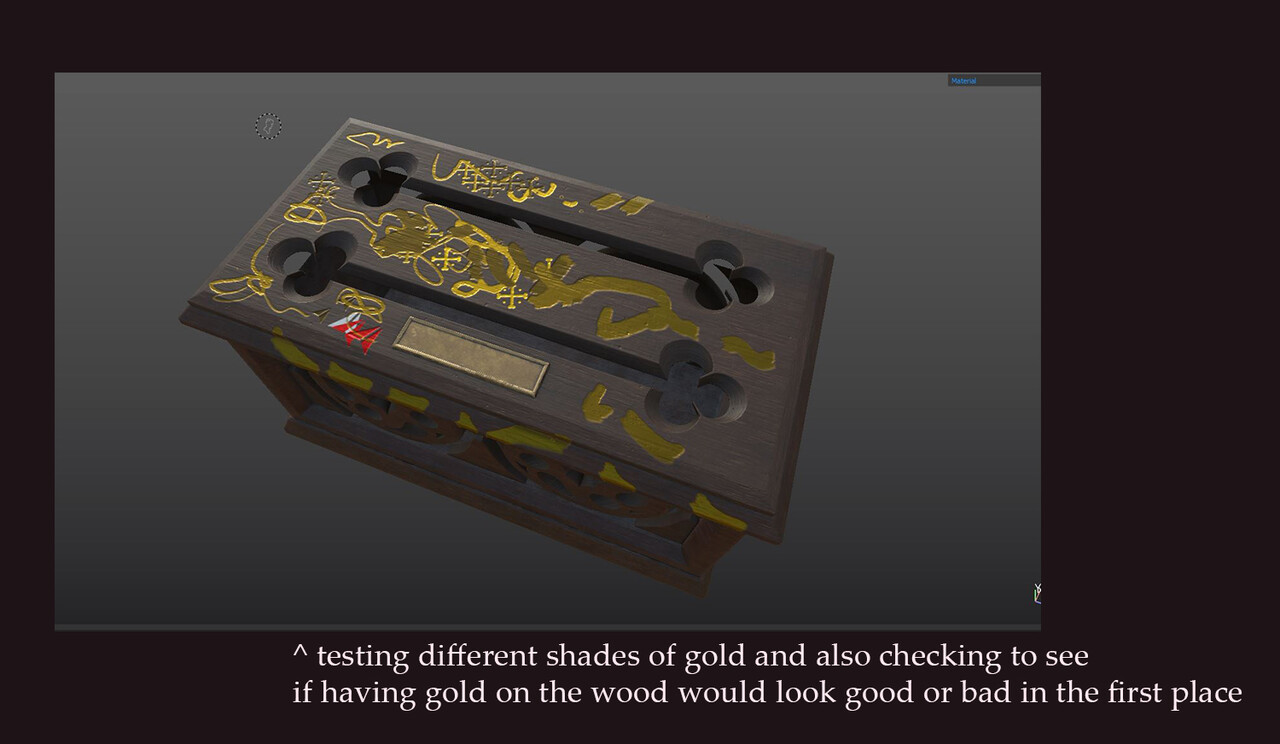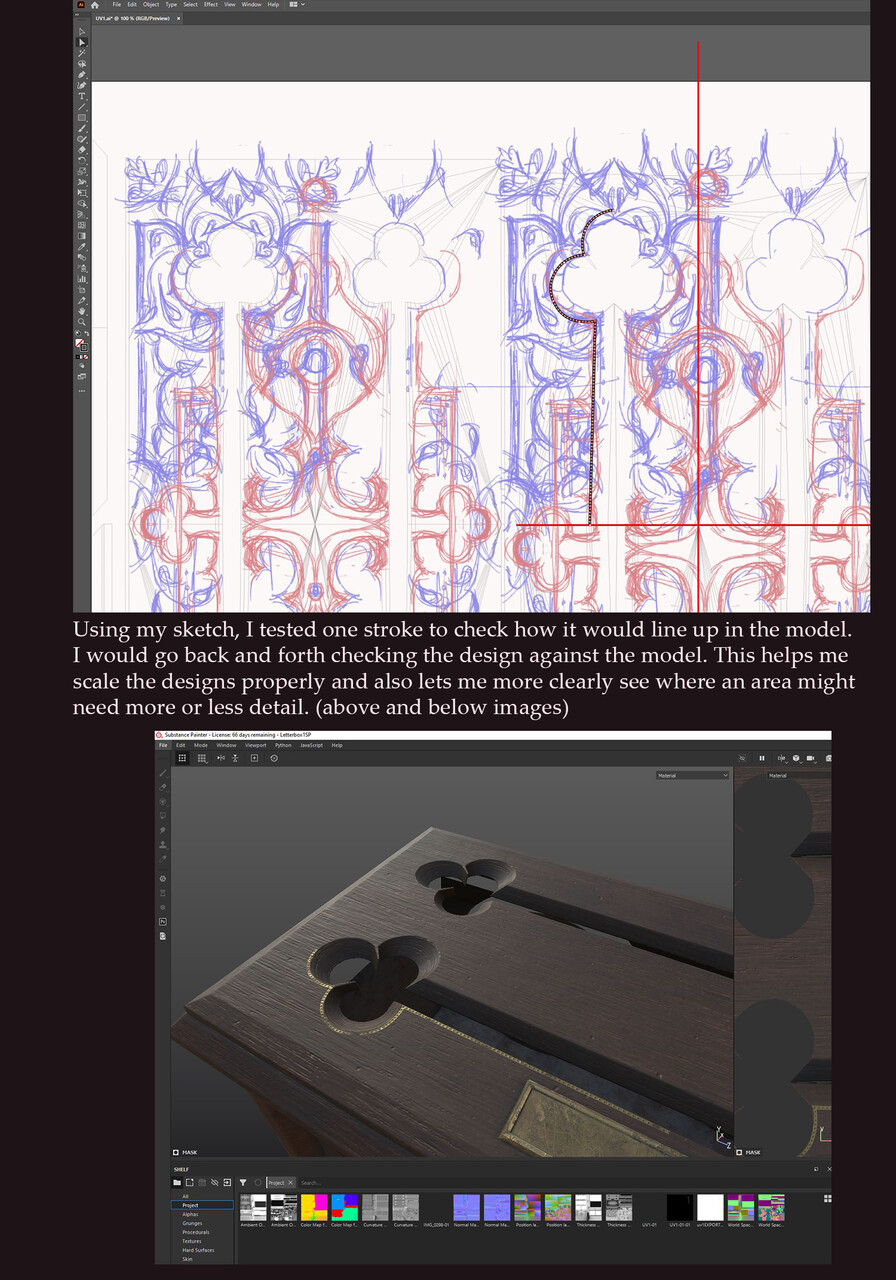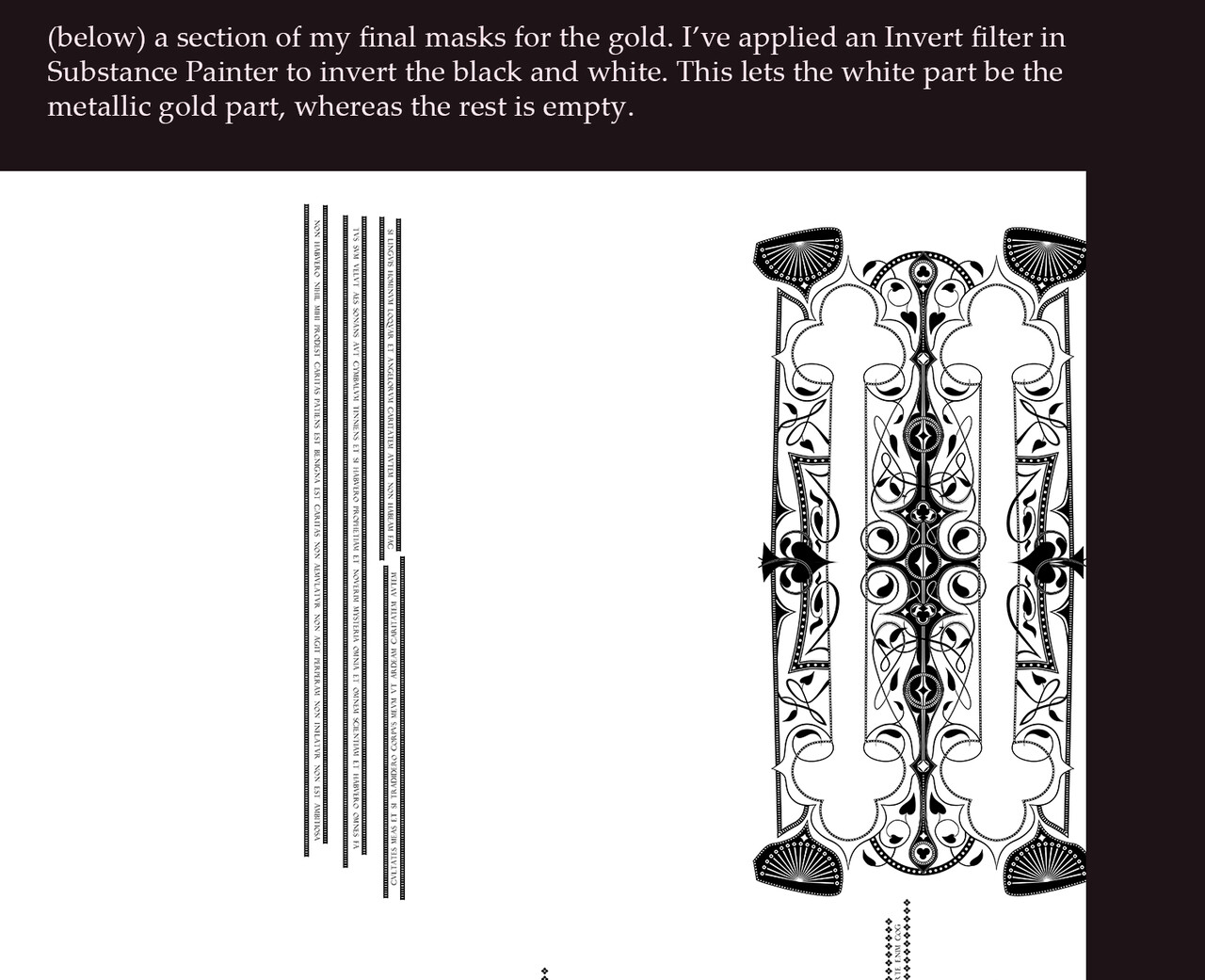 <3
 Olivia blogs every Thursday here on Artstation.
Follow Olivia also on instagram at @oliviaongai
See you next week!!!! <3